Gas Blocks and FSB's
Low Profile Gas Blocks
Low profile gas blocks are extremely simple devices. They are intentionally minimized for weight and to fit under a free float forearm. We have sold a ton of our standard low profile gas blocks and have never had a single problem with them. They are attached via two set screws and can be pinned to the barrel as an option.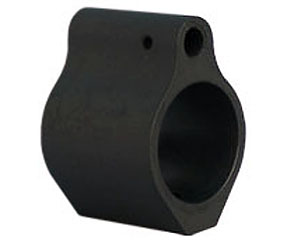 Basic low profile gas block
PRI gas blocks are very well made, and very similar to our standard gas bolck. These offer a slightly tighter fit to the gas tube, and have a nice finish that includes the PRI logo. The stainless gas block is a good match for a stainless or bead blasted barrel for customers who like the stainless on stainless aesthetic.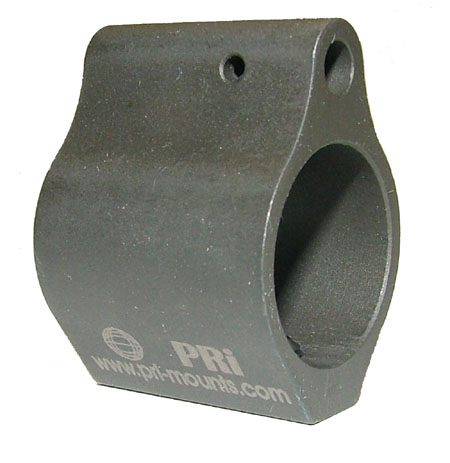 PRI black low profile gas block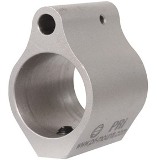 PRI stainless low profile gas block
SLR Sentry 7 adjustable gas blocks allow the shooter to adjust the gas flow in the AR15 gas system. This is often desirable when shooting in situations where the gas flow in the system is increased or reduced from normal functioning. Reduced gas flow can occur when shooting light loads or using fast powders with light bullets. Increased gas pressure and flow typically occurs when using a silencer. In either case, an adjustable gas system allows the shooter to fine tune the rifle for the situation as needed.
The specs on this block from the SLR Rifleworks web page are as follows:
- 100% Gas seal allows full cut off and prevents gas from fouling metering screw
- Complete disassembly is simple and take less than 10 seconds
- Metering screw and screw bore design allows repeatability and reliability only SLR has been able to deliver
- Single tool click to adjust gas metering
- Heat treated 4140 Precision machined gas block
- Nexturn Swiss precision metering screw
- 6AL-4V Titanium Leaf Spring detent mechanism
- 316 SS detent plunger
- NO tiny springs to corrode, break or seize / NO tiny ball to seize or get lost
- USES STANDARD GAS TUBE
- 100% Lifetime Guarantee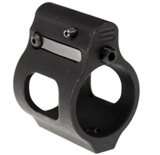 SLR adjustable black low profile gas block - Front view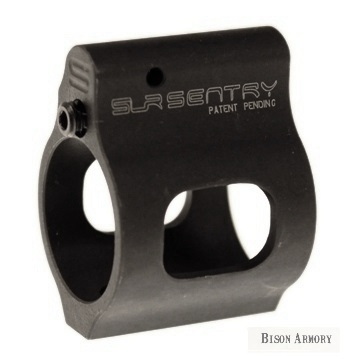 SLR adjustable black low profile gas block - Side view
Railed Gas Blocks
We use single rail gas blocks from YHM in one of two styles. The basic single rail gas block is a single piece and provides the shooter with a Picatinny rail on the top of the gas block. This rail can be used to mount a flip-up front sight or other accessories.
YHM 9385A single rail gas block
The other YHM single rail gas block we carry has a bayonet lug and sling swivel. This gas block attaches to the barrel with a pair of clamps.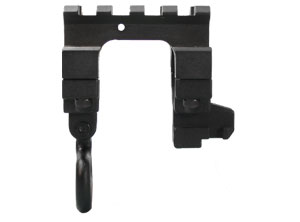 YHM 9836A single rail gas block with bayonet lug sling swivel
Front Sight Bases (FSB)
We carry flip front sight gas blocks from Yankee Hill and Precision Reflex. Our YHM flip FSBs come with either a hooded front sight (HK style) or standard military front sight. Either sight can be outfitted with or without a bayonet lug. In either case, the front sight flips down for a low profile anti-snag roll for storage or while a different primary weapons sight is in use. When in the upright position, the sight height matches the F-marked FSB height.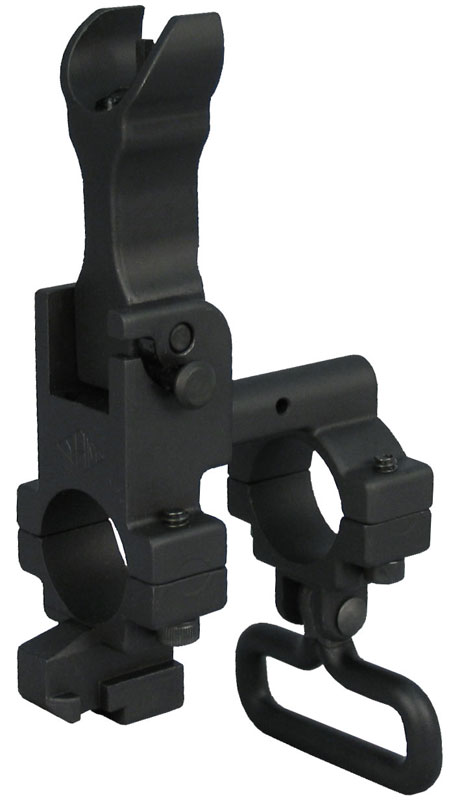 YHM 9394-H hooded flip front sight gas block with bayonet lug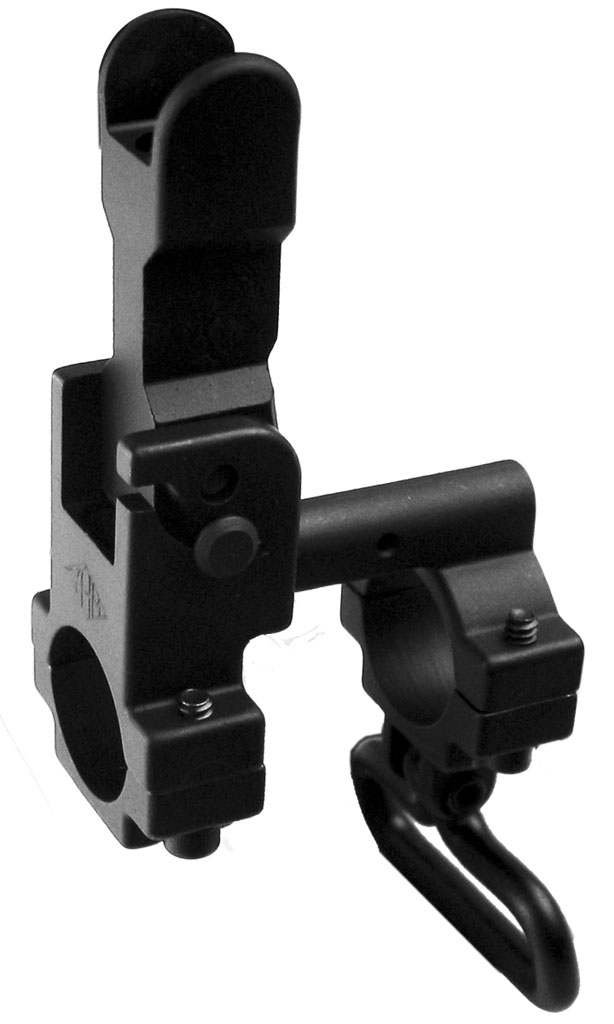 YHM 9395 flip front sight gas block without bayonet lug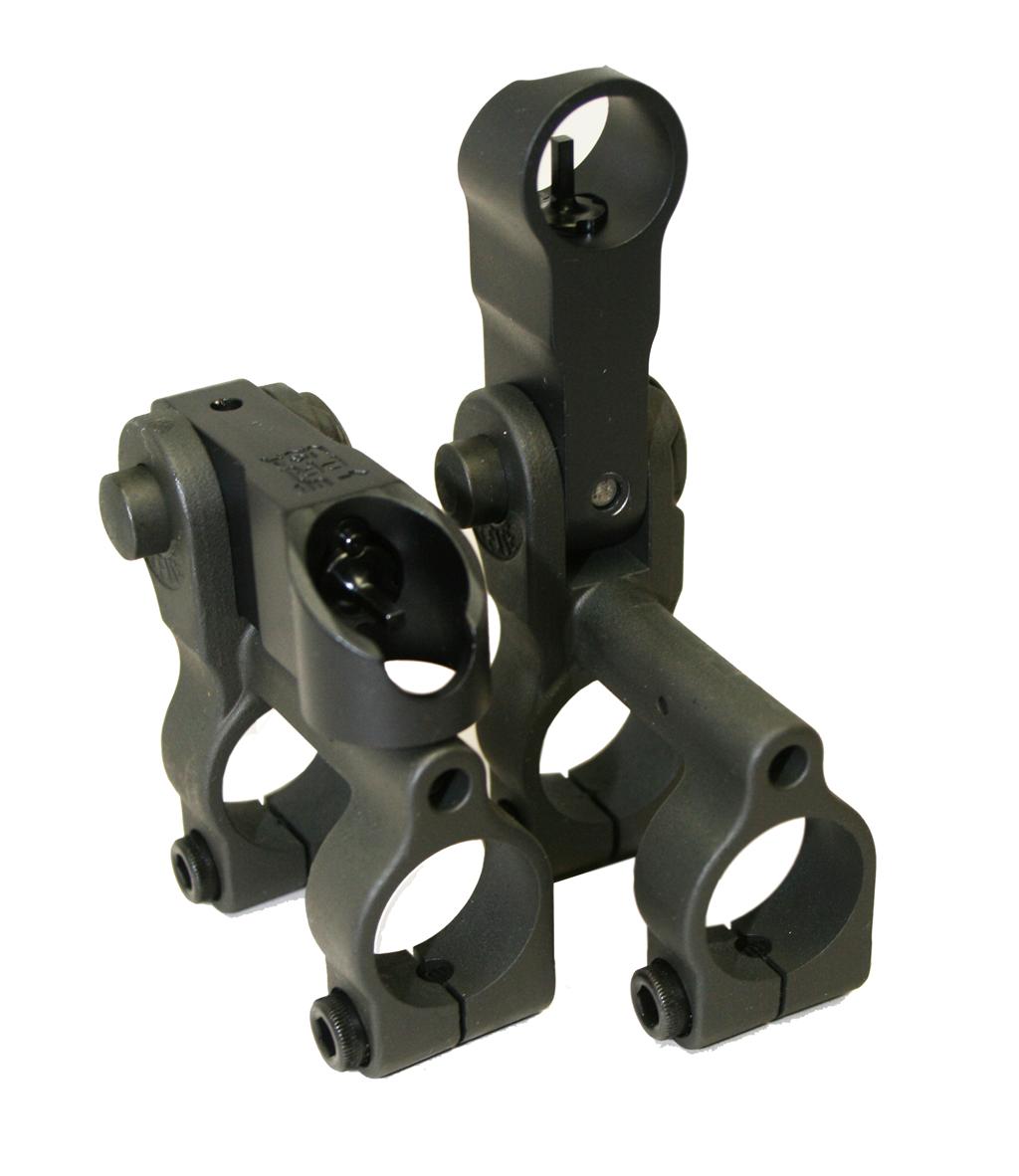 PRI flip FSB with full sight shroud
Pins, Clamping, and Set Screws
Gas blocks and FSB's are attached to an AR15 barrel using one or more pins, clamps, and/or set screws. Most low profile gas blocks use set screws, and are positively located on the barrel via a dimple on the barrel that is opposite the gas port.
Pinning a gas block or FSB to the barrel involves drilling and reaming precise holes in the barrel and gas block for a press-fit dowell pin. The dowell pin fit is very tight, such that it will never come loose on its own. Most military and police field weapons use pins where possible. If you choose a low profile gas block as part of your order, Bison Armory can pin the gas block to the barrel using a single straight pin at an additional cost of $40.

Barrel on top shows a dimple for the gas block set screw. Lower barrel shows a pinned low profile gas block.
Clamped gas blocks are common and typically provide a worry free method of attachment to a barrel. At bison armory we've sold countless upper receivers with clamped gas blocks and have never had any negative feedback from our customers indicating that a clamped gas block as become loose. Clamping is the simplest form of attachment for flip from sight gas blocks such as those from YHM.