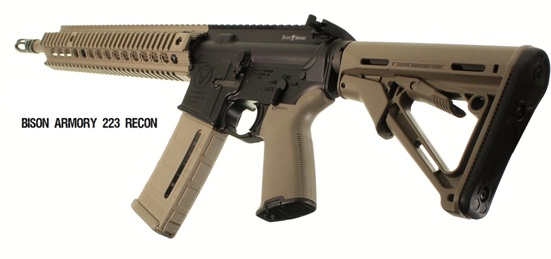 HUNTING SEASON!

Bison Armory is preparing for the fall hunting season. Order now to get your Bison Armory upper receiver or hunting rifle in time for the fall deer hunt!



Please also be aware that our system charges your card when you place your order, not when your order has shipped. If this is a problem please do not order!

NEW PRODUCT LINE: Check out our new line of 223 Recon Rifles! Follow this link to the product page to learn more!
NEW ACCESSORY: Shim sets are here to help you properly align your barrel nut within the correct torque specs!
NOTICE:

The number of orders we receive in a day has stabilized. For now. The recent and prolonged industry-wide surge in sales has, however, left some of our suppliers scrambling. As a result, we are currently backordered on many key components - particularly bolt carriers.
We will make every effort to process your order as fast as we
can, with priority given to customers based on their purchase date. Please keep in mind that o
ur store pages do not accurately reflect the current availability
of all the items we sell. Also, o
ur capacity to handle telephone and email communication is starting to improve, although most of our efforts are still focused on building, packing and shipping your orders. We appreciate your patience, and look forward to returning to our normal levels of service very soon.
Thanks for choosing Bison Armory.
- Ben Triplett